When you go online, chances are that a lot of the content you see is in video format – and for good reason. Every day, approximately 100 million people watch at least one video online. So videos are an incredibly effective way of marketing your product and/or service.
If you have been avoiding making videos because you think they will be too expensive or difficult to make, it is time to rethink your marketing strategy.
61% of all businesses now use video content in their digital marketing plans. Two out of every three of these businesses are newcomers to video.
Additionally, video consumption continues to rise online. Estimates from this summer predict that overall video consumption via mobile will increase by 35% by the end of this year.
These developments foretell a new year where digital video will be more important than ever for business owners' success. Those who take advantage of the following four video marketing trends in 2018 will likely be in for a great year ahead.
Video Content Marketing Becomes a Must-Have for Small Businesses
For one, people complete video content more frequently than the average non-visual, text-based blog article. According to Vidyard, over a third of all video viewers (37%) make it to the end of the video's run time.
Nearly all mobile users who watch video (92%) have a tendency to share video content with others. Simply Measured also says that video gets shared around 12x more frequently than content links or text.
Other studies show that audiences retain video in messaging better than text.
With these advantages, businesses putting video content out there will see higher levels of engagement. They will also see higher levels of shares and conversions into their marketing funnel. Having a video component to your digital marketing strategy will become a competitive differentiator in months ahead.
Business owners looking to get into video can start by transforming existing content assets into a short (around 2.5 minutes or less) summary. Look to the assets with the most views and shares for inspiration.
Video Becomes an Integral Part of the Sales Pipeline
Video not only generates awareness, it can help nurture sales in both B2C and B2B industries. 65% of business decision-makers will visit a startup's website, claims ComScore.
Offering video content helps turn what could be a pushy and person-intensive sales process into a self-service nurturing pipeline. Interested prospects can view video content hosted on websites or shared via social to learn more about products and features. As they educate themselves, they move towards the end of the sales funnel with minimal person-to-person contact.
Self-guided lead nurturing not only reduces employee overhead, it also results in a more pleasant experience for leads. 19% of prospects claim they only want to hear from a company rep when they are actively considering a purchase. 40% of prospects want to be able to buy without talking to anyone at all.
Meeting this need involves considering how video assets can provide value at every stage of the sales/marketing funnel.
For instance, business owners can cultivate awareness by creating emotional or intriguing video advertising assets.
Video content marketing assets provided on their website next to text content can help buyers at the nurturing stage. In-depth explainer videos can help lay out different buying options. It can also lay out the final steps in the procurement process for those ready to close the deal.
"When you incorporate video into your sales processes, customers get what they want: a friction less, self-serve experience on their time, and on their terms," says WireBuzz.
Think about buyer needs that were once traditionally met with person-to-person interactions. Imagine how video can replace these needs with a self-service, video-heavy customer journey.
Live Video, 360° Video, Slideshows and Other Video Formats Gain Traction
Like everything else online, the world of video marketing is evolving. While you can still upload videos to your YouTube channel and share them online, there's also a new kid in town – live video.
One of the most accessible options, which allows companies to fully integrate video marketing into their Facebook marketing, is Facebook Live.
Live video presents an easy, low-budget and low-concept way to create more video content for audiences. Brands can engage with audiences in a way that feels authentic and like a 1:1 conversation.
Preparing live video into your content marketing and social engagement strategy can quickly round out your assets without a massive up-front investment.
There are a lot of reasons that doing live is a good way to gain more followers. This is something that you should be investing in.
We could go into a lot of detail now about why Live might well be the 'future' of social media in many ways. For now, though, suffice to say that for you, it offers a unique way to communicate with your audience. This takes away the limitations of having to wait for a post or a message to be delivered.
Your audience will feel as though they're getting real insight into your lifestyle, your business and your personality. You will be able to answer their question directly.
This is a fantastic format for a whole range of types of media. From AMAs (Ask Me Anything), to interviews and to product reviews.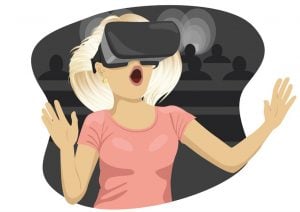 On the other end of the spectrum is 360° video. These assets use a special camera setup to capture a full spherical range of images. Audiences can then use a smartphone headset like the Google Daydream to tilt and move their head as the video plays, changing their viewpoint as one might in real life.
360° video results in a truly immersive and memorable experience. However, the high cost of equipment and production means businesses require an airtight strategy for converting 360° videos into measurable returns.
Formats like these lower production costs for video — especially video ads. They still provide higher levels of engagement. Best of all, they can communicate well even without sound.
Since 85% of Facebook videos are watched without sound, slideshow and short-form video assets provide substantial returns with a relatively minimal investment.
In 2018, Video Marketing Trends Will Define Small Business Success
If 2017 was a year of pioneering growth for video, 2018 will be the year people expect business owners to give their video marketing campaigns some structure.
Business owners can bring in bigger audiences than ever before. Simply by  using the above trends in combination with intelligent strategy and dutiful measurement of KPIs.
What's Your Local Score?
Enter any business name and zip code and see how optimized it is for local search.